Who We Are
Our Legacy
Longboat Island Chapel has a history of being the first church on Longboat Key and to establish an ecumenical/non-denominational community. Our progressive, forward-thinking, Christian-based faith informs us to welcome guests of all faiths.
The following images come from one Longboat Look-Out newsletter published in June 1956. Several other images on this page depict some of the early history of Longboat Island Chapel. Click on any image on this page to view a larger version.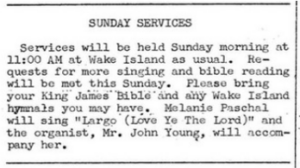 Our Guiding Philosophy
For over a half-century Chapel members have consciously exercised deliberate choice in formulating and experiencing an evolving guiding philosophy.  The Longboat Island Chapel is a Christian-based interfaith community church built by people who chose to come together in a sharing practice of their religious faith.  They came, and continue to come from different backgrounds, such as – religious, geographic, and personal life choices.  This has created a congregation of diverse, truth-seeking, people who accept the belief that our differences don't separate us, but give us an opportunity to explore together a shared faith based on the principles of love, truth and service that are the foundation for our Affirmation and Statement of Interfaith.
Affirmation:
Love is the doctrine of this church; the quest of truth its sacrament; and service is its prayer. To dwell together in peace, to seek knowledge in freedom, to serve humanity in fellowship, to the end that all souls shall grow into harmony with the divine — thus do we covenant with each other, and with God.
Statement of Interfaith:
You are welcome here. We are an open door through which persons of all faiths may pass, be understood, and accepted; a community chapel that proclaims love as its doctrine.
Beyond the philosophy of faith is the real need to strive to live our faith principles of love, truth and service.  At the Chapel love comes in many forms.  Most notably is the support and caring of members within the Chapel and outwardly toward our extended community.  The quest of truth is personal as it involves what we believe about our God and our individual spiritual journey.  Service is accomplished through personal assistance, prayer and organized support groups within the Chapel and through many community outreach efforts.
Our Senior Pastor Emeritus, Rev. "Charlie" Shook shared these thoughts regarding the Chapel's guiding principles by saying: "I choose to believe that love is the greatest thing in the world.  But, I can't prove it.  And I choose to believe that the test of any truth is: Does it make you and me a more loving, more compassionate human being?  That is the ultimate test of any certainty – the test of love."
Membership
Membership at the Longboat Island Chapel is a commitment to supporting the Chapel physically, spiritually, and financially. Members join us from various locales throughout the United States and Canada, as well as locally from Longboat Key and neighboring municipalities.  We dedicate ourselves to live by our Affirmation of Faith and hold that love is the doctrine of this church.  We promise to do our part in helping the Chapel to sustain itself with financial obligations by joining the numerous committees and worship events hosted by the Chapel.  Members come from all walks of life, as well as faith traditions, and each one is unique in what we have to offer.
We are pleased to provide Regular Membership to those residing in the area, as well as Associate Membership for those who are members of another church located outside of Sarasota or Manatee Counties.  We are proud of our Interfaith tradition and look forward to sharing our special social and spiritual journey with you.
For more information on becoming a member of Longboat Island Chapel, contact our Membership Chairperson, Carol Peschel, at 941-383-6491 or email Carol at aspeschel@aol.com