Sunday, Nov 27, 2022
"Unwrapping Hope"
Hip Hip Hooray! Christmas is coming! The best day of the whole year is just four weeks away and I'm certain that this is going to be a wonderful Christmas. Despite the challenges of this past year, I know that something special will surface. I have a plethora of reasons to be Hopeful this Holiday Season!
Now, back to reality. Hope is not that easy. In these past few years, the world has been turned inside out by all kinds of things. COVID, natural disasters, war, hyperinflation, supply-chain shortages, economic tragedy, and personal loss have created a world that doesn't look too pretty. Some of us have endured incredible challenges that brought terrible pain and suffering to our doorstep. Even though life seems to be settling into a "new normal", many of us are left wondering if there is any reason to have HOPE this Christmas.
This is precisely why God provided the world with Christmas. God knew how complicated the world could be. God knew that we needed so much help that He came into our world to offer a lending hand and comforting presence.
Today is the first day of Advent, the traditional time of preparation for Christmas. Each of the next four weeks will be highlighted by a different theme, and, in case you didn't already know, this week is attributed to HOPE. This week, we are encouraged to reflect upon the HOPE that God provides to the world at Christmas.
Despite all the challenges, pain, and suffering of the last few years, Christmas will still come this year. Granted, many of our Holidays traditions were accidentally thrown away with the previous year's wrapping paper, but many more gifts still remain to be opened.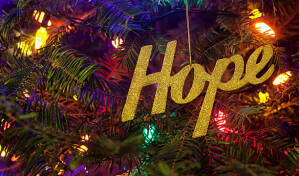 As we begin Advent, spend some time thinking about the HOPE God provides at Christmas. God didn't accidentally provide us with Christmas. Instead, God gave us the best help by intentionally entering our world so that we could always have a hand to hold and a shoulder to lean on.
If you're still struggling to have HOPE, consider taking time each day to give God your attention. Talk to The LORD. Express your feelings without reserve and seek God's advice this Holiday Season. God has so much more to offer, but unless we unwrap God's gifts, they're just gonna sit in the box and collect dust.
"May your unfailing love be with us, LORD, even as we put our hope in you." – Psalms 33:22 (NIV)